About World Online
I organized my two groups to operate in a multi-disciplined manner as a web development/design firm, as a marketing firm, as a content originator and as a content publisher*
* Original and re-purposed print and/or video content
Key points
• Prepared budgets and set goals for online business unit. With print/cable sales force budget managed by print/cable sales director.
• Developed concepts that integrate online, print and cable television advertising with sales managers from those units
• Developed cross-sponsorship convergence opportunities of print, cable and online content
• "Productized" online sales opportunities so that our integrated print and cable sales force can sell and build online relationships. Created master sales plan that the print/cable sales director and managers used to formulate action plans.
• Reorganized print and cable re-purposed content into "audience segments" to meet advertising sales, marketing and readership objectives.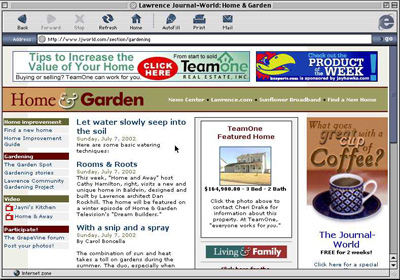 • Initiated "bundled print-online forced buy" programs of bringing online a print tab as a advertiser listing. The listing is the first building block to up selling other online "products" [About Building Blocks PDF]to print clients.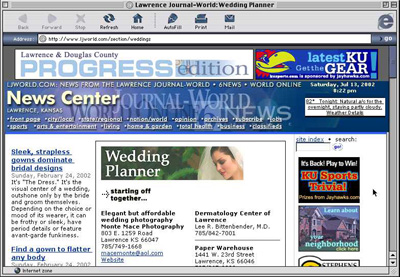 • Directed and managed one dedicated online salesperson focused on selling Real Estate site programs and web site development/marketing programs.
• Managed and initiated news content convergence concepts, cross-promotion and workflows (print, cable, online)
• Directed creation of interactive and participatory content (forums, polls, surveys, contests)
• Directed commercial and news/informational web site development
• Initiated name recognition building campaigns (internal and for clients)
• Directed promotional advertising programs for online unit
• Initiated and directed creation of original "super-local" content for online use (text, photographic, video)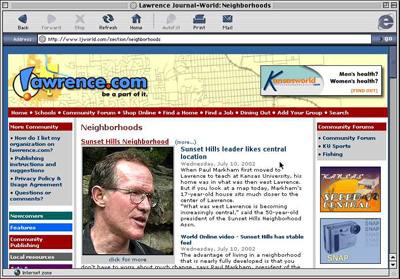 • Explored online subscription based and pay-per-view model with the objective of strengthening the existing subscriber/member relationships and/or building new online subscriber/member relationships. Launched Bonner-Clickshare "Subscriber Access Edition" on June 27, 2002.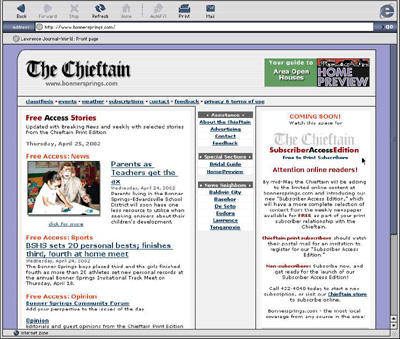 Vertical market sites [next]