News
[more]
Choose a local news source from the Associated Press.

AP main page

How to set up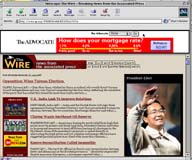 Go to... AP...
Use PULL DOWN MENU to select local news source in your region...
This will load a screen with two frames (top and bottom)...
In TOP FRAME... Click GO button next to name of newspaper...
Please e-mail your suggestions and additions regrading this how to guide page to us.
Return to guides main page.