News
[more]
You can create a personalized news page on Netscape!

Netscape My Netscape!

How to set up
Go to... Netscape Personalized News... You'll see the default page...
Click PERSONALIZE... Register... Note that your "User Name" will also be registered as your "AOL Instant Messanger" screen name (you can enter this as your globalhome.com IM screen name as well when you are ready to complete the globalhome.com My Links registration form...
Click NEXT... NOTE you MUST relpy to the e-mail confirmation that is sent to you...
Choose personalization options...
I set this one up for me with only POLITICAL NEWS and HOROSCOPES (they do go together you know)...
Select TIME ZONE...
Click "BUILD MY PAGE"... NOTE you WILL NOT be able to share your personalized My Netscape with friends without also giving them your user name and password (which we would not recommend)...
See your personalized page...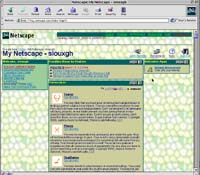 Customize areas... Click PREFERENCES... Click CUSTOMIZE COLOR... See sample at right change as you select options... Cool... I choose "Reptile" for my BACKGROUND PATTERN to keep with the political theme... Try some combinations... Then SAVE...
Click the little FACE to EDIT areas...
You can always go back and add more content areas...
Please e-mail your suggestions and additions regrading this how to guide page to us.
Return to guides main page.