News
[more]
You can create a personalized news page on Yahoo!

Yahoo! My Yahoo!

How to set up
Go to... Yahoo! Personalized News...
Click PERSONALIZE... You'll see the default page...
Click "GET YOUR OWN MY YAHOO!"...
Fill out registration form... SUBMIT... They will e-mail you a confirmation... But you can go in immediately and start personalizing...
Click "Continue to My Yahoo!"... NOTE you WILL NOT be able to share your personalized My Yahoo! with friends without also giving them your user name and password (which we would not recommend)...
You can now customize (Click) "Content" and (Click) "Layout"...
For instance I've set up mine with only FINANCE, the WEATHER and HEADLINES... The .com get rich quick in the stock market set up...
You can then go in and customize TOPICS like stocks... You might need this stock symbol look up first... You can set up WHAT IF portfolio of stocks and see how rich you could have been if you only put your dollars into the market instead of shoes for the kids... Fooling around with it before going barefoot...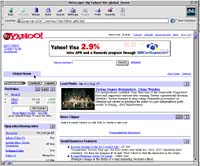 Customize (Click) "Layout"...
By clicking on items you can prioritize the order... UP or DOWN... or delete an item...
A feature that I really like is the NEWS CLIPPER... you can create a personalized clipping service... Cool...
Please e-mail your suggestions and additions regrading this how to guide page to us.
Return to guides main page.