Contents page is updated most days (I'm an old hippie after all) M-F by 8 a.m. EST (or there about - get notified when we do) with new items posted at top. Browse our archives. Each archived contents page contains five days (M-F) of daily postings.

When we update get notified.

Quote:
"Everyone thinks of changing the world, but no one thinks of changing himself..." - Leo Tolstoy

Where ever there's, weather there you are.


BOS


WSTK


KC


DEN


SF


Even here (ZIP)
Guests POST here.
Bookmark us. Better yet make us your home page.
How to support this site: (1) Buy our art or stuff. (2) Access shopping sites through our affiliate links: Amazon, eBay, Astrology.com, AllPosters.com, MisterArt.com, Gurney's Seed and Nursery and JustFlowers.com. (3) Or donate some cash...

Guests POST here.
---
All year long support what we are doing by shopping on Amazon. Just use this search search box when going to Amazon and we get a commission on the items you buy. Thanks

---
1.17.05
...Then out came the poster with a simple image in black, red and orange that read "No Wars for Big Oil." Richard Correll had designed it 26 years ago, in 1979. "I'm not even sure which war it was," Correll mused. "But when the first Gulf War came up, my mother took it to a meeting of her peace group, and they printed more."...
Support what we are doing by bidding or selling through our affiliation with


Use this link and we get a commission. Thanks
Visit our Three Old Hippies STORE on eBay.
Support what we are doing by ordering flowers through our affiliation with


Use this link and we get a commission. Thanks
---
Support an old hippie (and this site) donate some cash...

---

Art Activism Inspiration Resource Links [PAGE] ...and for the truely inspired e-mail addresses for [SENATE] [HOUSE] [MEDIA] [U.S. GOV] [BUSH]
Sixties Project: The Sixties Project began as a collective of humanities scholars working together on the Internet to use electronic resources to provide routes of collaboration and make available primary and secondary sources for researchers, students, teachers, writers and librarians (and old hippies) interested in the Sixties.... [WEBSITE]
Street Art Gallery View/Submit... [PAGE]
Art Activism Resource Links [PAGE]
Archived contents pages by week.
1.17.05
Do you know this quote?
"...I look forward confidently to the day when all who work for a living will be one with no thought to their separateness as Negroes, Jews, Italians or any other distinctions. This will be the day when we bring into full realization the American dream -- a dream yet unfulfilled..." [MORE] - Martin Luther King, Jr.
Who were you in past life? Find out with a FREE sample Past Life Report from Astrology.com!
When we update get notified.

1.17.05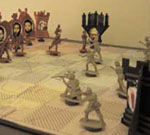 ...What does it mean to oppose the war in Iraq while your son is fighting there? Kari Gunther- Seymour has lived that question daily since her son was sent to Iraq in August. She has turned one mother's anguish and a citizen's questions into the stirring and interactive installation WAR GAMES: a mother's perspective at Minneapolis' Susan Hensel Design through February. "When the soldiers come home, they need to understand that people really did differentiate between 'the war' and 'the soldiers,'" Gunther- Seymour said quietly. "What the soldiers are doing, they are commanded to do. The war is separate and different people command and control that. The soldiers are pawns on a chess board."...
Make art...


Use this link and we get a commission. Thanks

1.17.05
..."The Bush Survival Bible: 250 Ways to Make it Through the Next Four Years Without Misunderestimating the Dangers Ahead, and Other Subliminable Stategeries"...
07.29.04
Make art... Tie Dye Kit