Archived contents page for week of 12-20.04. Join update e-mail list [GO]

When we update get notified.

Quote:
"What I must do is all that concerns me, not what the people think. This rule, equally arduous in actual and intellectual life, may serve for the whole distinction between greatness and meanness. It is the harder, because you will always find those who think they know what is your duty better than you know it. It is easy in the world to live after the world's opinion; it is easy in solitude to live after our own; but the great person is one who in the midst of the crowd keeps with perfect sweetness the independence of solitude." - Ralph Waldo Emerson

Where ever there's, weather there you are.


BOS


WSTK


KC


DEN


SF


Even here (ZIP)
Guests POST here.
Bookmark us. Better yet make us your home page.
How to support this site: (1) Buy our art or stuff. (2) Access shopping sites through our affiliate links: Amazon, eBay, Astrology.com, AllPosters.com, MisterArt.com, Gurney's Seed and Nursery and JustFlowers.com. (3) Or donate some cash...

Happy happy! (off until after the new year... see you then)

Guests POST here.
---
This gift buying season support what we are doing by shopping on Amazon. Just use this search search box when going to Amazon and we get a commission on the items you buy. Thanks

---
12.22.04



...subvert of the Burger King logo - i hope disgruntled employees will print this out and stick it up... [SUBVERTISE]
12.21.04



(detail)
...At the same time we want to point out the relationship between the media, the public and the information sources of the war department...
12.20.04



(detail)
...Finley originally generated "Moths" on computer. He subjected head shots of nine Bush Cabinet members to a program that translates all pictorial information into line, allowing him to pull the linear profiles wildly out of shape. Finley transferred his elaborate design to canvas and painted it in a narrow palette of gray-greens on black...
Support what we are doing by bidding or selling through our affiliation with


Use this link and we get a commission. Thanks
Visit our Three Old Hippies STORE on eBay.
12.20.04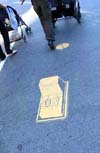 (detail)
...Unlike more traditional forms of visual art, graffiti transforms the ordinary urban landscape into a vast and nuanced canvas...
Support what we are doing by ordering flowers through our affiliation with


Use this link and we get a commission. Thanks
12.22.04
...Celebrating the return of the sun: One often hears the phrase, "put Christ back into Christmas" as if Christmas is a creation of the Christian faith. Perhaps the name is, but the holiday goes back much farther than Christianity. The season that we celebrate is that of the Winter Solstice so perhaps a better question is "who put Christ in the Solstice?"...

12.21.04


...Design for a Flag During a Time of War... [LARGER]
12.21.04
..."The artist is always engaged in writing a detailed history of the future because he is the only person aware of the nature of the present." - Wyndham Lewis... [The Experimental Party WEBSITE]
12.20.04



(detail)
...His juxtaposition of tax forms, photographs and numerical data (joltingly printed in red ink) places the banners somewhere appropriately in the middle ground between consumerist advertising and political propaganda art...
---
Support an old hippie (and this site) donate some cash...

---

Art Activism Inspiration Resource Links [PAGE] ...and for the truely inspired e-mail addresses for [SENATE] [HOUSE] [MEDIA] [U.S. GOV] [BUSH]
Sixties Project: The Sixties Project began as a collective of humanities scholars working together on the Internet to use electronic resources to provide routes of collaboration and make available primary and secondary sources for researchers, students, teachers, writers and librarians (and old hippies) interested in the Sixties.... [WEBSITE]
Street Art Gallery View/Submit... [PAGE]
Art Activism Resource Links [PAGE]
Archived contents pages by week.
12.20.04
Do you know this quote?
"...When people keep telling you that you can't do a thing, you kind of like to try it..." - Margaret Chase Smith
When we update get notified.

12.22.04
...Dyan Marie's work lies at the junction of art and activism. The 50-year-old painter, photographer and sculptor has been exhibiting her work in Toronto for more than two decades but, in recent years, she's acquired a reputation as one of the city's fiercest community advocates...

12.21.04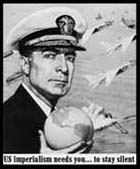 U.S. imperialism needs you... [LARGER]
12.20.04



(detail)
...While his paintings may have resembled the American pop art that was underway across the Atlantic, Polke's works were inherently interlaced with political and social issues that affected post-war Germany...
We will post the number of visitors by where you hail from. So where are you? As of this morning (12.20.04) we now have over 4,034 visits. (The Marches UK 1, GA 1, PA 1, NH 1, NY 1) :)
12.20.04
...In the recent election, the effort progressives put forth against the existing administration was heroic. The San Francisco art community is interested in continuing the momentum gained in Oct/Nov and building publicity for dissent against the policies of the Bush administration. Join us is this incredible show, featuring political art by well known artists, many of whom have never painted political art...
Make art...


Use this link and we get a commission. Thanks
07.29.04
Make art... Tie Dye Kit
Who were you in past life? Find out with a FREE sample Past Life Report from Astrology.com!