On July 21, 2004 I made a trip to North Adams, Mass. to see what was going on at MassMoCa *and* to see how MassMoCa handled the canceling of the Critical Art Ensemble's exhibit Free Range Grain.

If you would like to comment on this page do so..
July 21, 2004
North Adams, MA

MassMoCa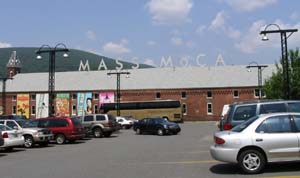 "...encourages dynamic interchange between making and presenting art, between the visual and performing arts, and between our extraordinary historic factory campus and the patrons, workers and tenants..." The MassMoCa main page as of July 21, 2004 gives a brief description of some of the exhibits I have noted here.
There was plenty of art activism and social commentary art on display. This is a painting by Matthew Ritchie who had a great story to tell of, "...His complex and imaginary story of the history of the universe is told through monumental wall drawings, expansive sculptural installations, and beautiful digital animations. He explores a self-created cosmological system through his work; an endless and complex landscape where various ideas and concepts can coexist, drawing upon a vocabulary of scientific notations, cartoon characters, mythology, biblical tales and pulp fiction to illustrate the workings of his alternate universe..."
(this one is my favorite) A Glorious martyrdom awaits us all at the Hands of our tender and merciful God.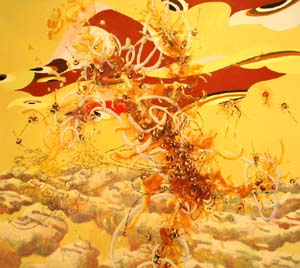 (I can't wait. On second thought, actually I can.)
And let's hear it for "...The God Bless Graffiti Coalition's [Website] and "On the 8th Day..." wall of wheatpaste posters from all over the world..."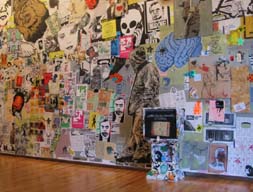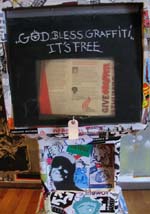 (I particularly like the news box.)
This sign is posted in the gallery where the Critical Art Ensemble's exhibit was to appear before Steve Kurtz was arrested on bioterror charges.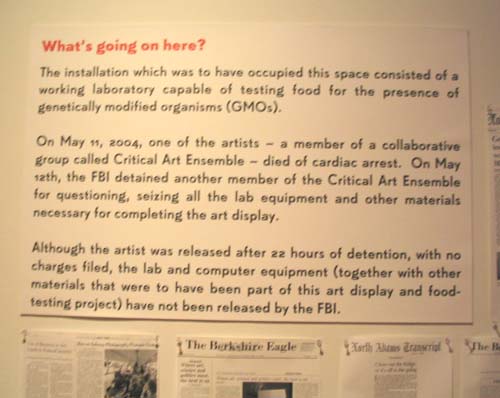 (The sign is in error. It is not over yet.)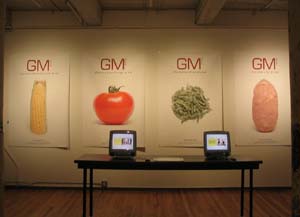 Gallery as it appeared July 21, 2004.

Find links to information about this "event" here.

Ok. There were other very insightful exhibits... Like Ready to Wear with The Center for Tactical Magic's Ultimate Jacket and the Reclaim the Street gallery with map of surveillance cameras around NYC (protecting businesses, NOT people). By far the most impressive was a wonderful "tailoring" workshop called, That Word Which Means Smuggling Across Borders, part of the The Interventionists exhibition, is an installation by J. Morgan Puett. A massive walk-in that is really something to behold. (I should have spent more time here. Sorry I have no photos, nor could I find any online.)