DEMOCRATIC FESTIVAL
July 31, 2004
A ThreeOldHippies.com On The Scene Report:
Positive energy and the winds of good fortune kept the rain clouds away while art, music and crafts were reviewed by a stream of (young and old 'hippies') "Vote Kerry" stickered Democratic Party supporters.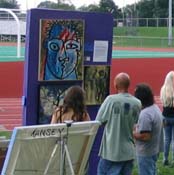 One of the political art display panels at the festival.
Those who took the chance of coming out to the festivities were treated to a surprise appearance on John Sebastian. Fittingly he did, "Did you ever have to make Up Your Mind?".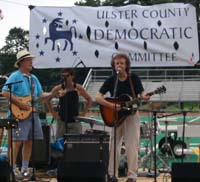 John and Donovan at the festival.
Then he introduced Donovan, Yes. Really. He did Colours and Catch the Wind (I was back in 1968 for a minute or two).

08.02.04 (if you are here to find out about the quote)
The quote
...First there is a mountain, then there is no mountain, then there is. The caterpillar sheds his skin to find a butterfly within...
(listen to clip, click details)


[Lyrics]
Buy Album - Donovan In Concert, 1968
If you would like to comment on this page do so..
July 31, 2004
Kingston, NY

Selections of activist art that was on display at the festival. I wish I could have them all up here (next time you should just go and see it all) but there is just so much time... (you will remember to vote won't you)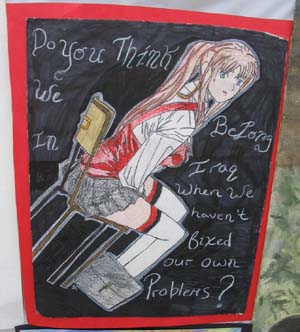 By Jessica Politana.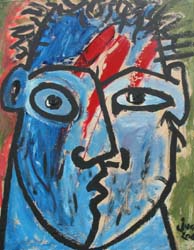 Detail of a work by Jude Defalco. [WEBSITE]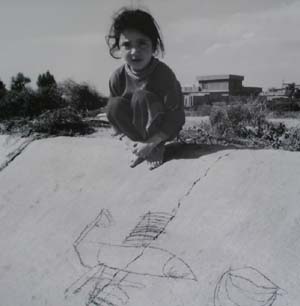 Photo of Iraqi child with drawing of plane.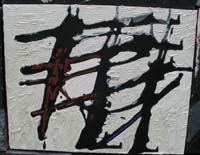 Center panel of a work by Renee Englander entitled "War".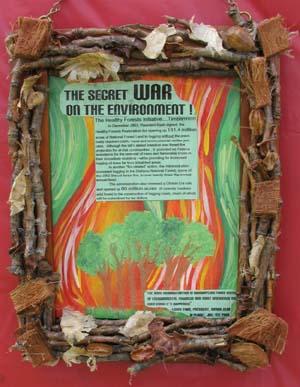 Secret war on the environment.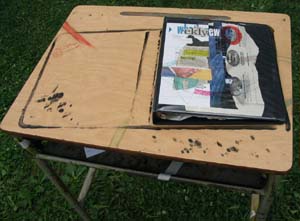 Lip Service, Bush misleading us media clips collage by Bernard Re, Jr. (this old hippie) before people started signing the desk...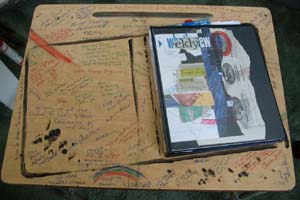 By the end of the day the desk was covered with signatures.

Bush waiter... now serving by Chandra Smith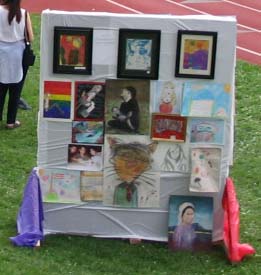 Art by youth display.
Art festival participant web site or e-mail if available:

Jude Defalco [VISIT]
Trini Garro [E-MAIL]
Ronnye Jai [VISIT]
RJ Katz [E-MAIL]
Scott Thomas Lowe [VISIT]
Bernard Re, Jr. [VISIT]
Kitrick Short [VISIT]
Chandra Smith [E-MAIL]
Jean Tansey [E-MAIL]
Lorna Tychostup [VISIT]
Barbara Upton [VISIT]
Carl J. Volk [VISIT]
Marcine Quenzer [VISIT]