If you would like to suggest street art or street art items for this gallery e-mail us now.
Related:
Interesting (at least we think they are) items (date indicates when item first appeared on our contents page) relating to street art, artists, groups and resources:
09.8.04
...Art Crimes... [War signs]
08.20.04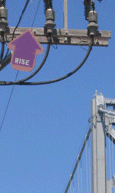 Arrow art on power lines photo gallery (detail)
Above (Seattle) ...I grew up in an artistic family, with kind of hippie parents. When I was about 18 I was at the train yard painting all day and this other train I painted was leaving...
08.13.04
... It can be found almost everywhere in the larger cities - on pavements, roads, walls, underground passages (one of the most famous is at the Magen David Square on Allenby Street, corner of King George, in Tel Aviv), bridges, public buildings and lampposts. This art relates to the urban space as a substrata, creating from it a wonderful place for wandering around. Street art is mostly the work of young artists, most of whom are active in small, unknown protest organizations that use the language of art to protest against political and social injustice...
07.29.04
Wooster Collective: A Celebration of Street Art...
10.25.04



(street poster in Spain)
...This site is a documentation of anti-Bush sentiment from around the world expressed through graffiti, placards, flyers and other spontaneous, 'guerilla' means...

07.07.04
Stop Bush - Canaan, CT, USA [VIEW]


07.07.04
Stop Bush - New London, CT, USA [VIEW]



07.29.04


Graffiti art is constantly changing. Fresh coats of paint and newly pasted posters appear overnight in cities across the world. New artists, new ideas, and new tactics displace faded images in a perpetual process of renewal and metamorphosis. From Los Angeles to Barcelona, Stockholm to Tokyo, Melbourne to Milan, wall spaces are a breeding ground for graphic and typographic forms as artists unleash their daily creations...
07.09.04
...Swoon, 26, is a luminary in a movement known, at least among many of its proponents, as street art...
07.08.04
...Trouble is coming our way, and it's about time. Robbie Conal, the notorious American poster artist...
Related items, links and resources are spread throughout gallery pages...