Dublin - May 13, 14, 15, 16, 2004
May 14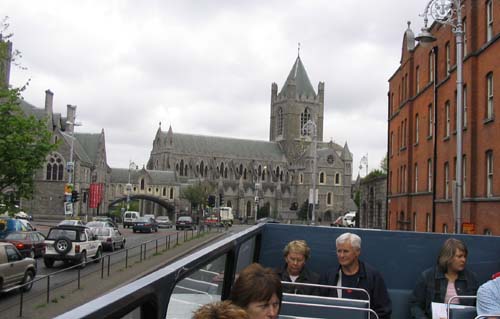 We went on a Hop-On-Hop-Off Dublin Bus for a tour of the city. This is Christ Church.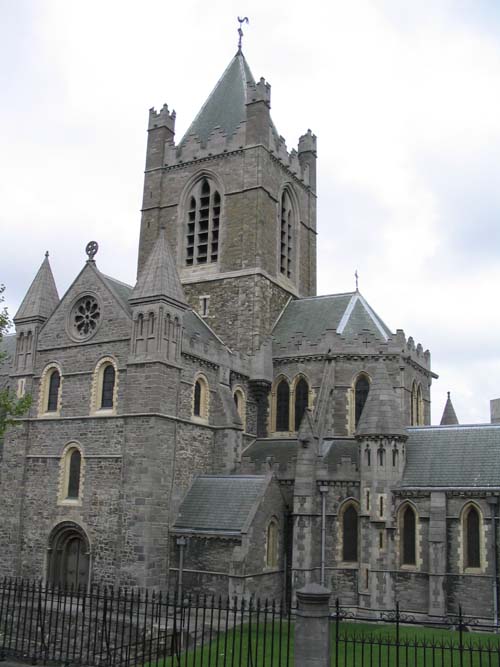 And extream close up! Nice but we didn't get off the bus until we came to our prime objective...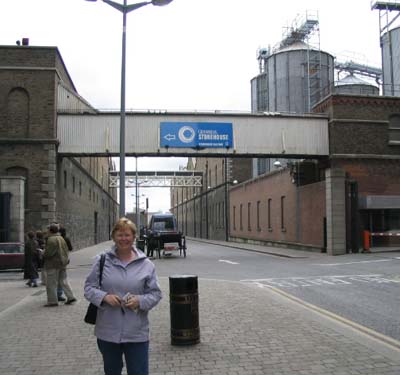 ...the Guinness Storehouse. All seven floors in the heart of the brewery complex of sixty some acres.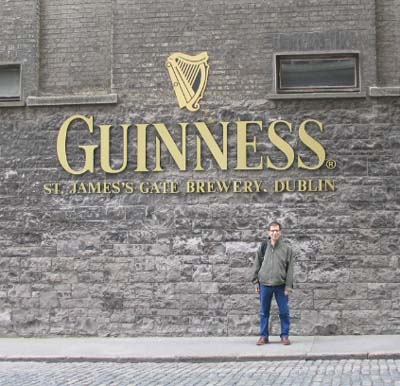 Get those elbows ready. Oh let me mention here that they keep the good stuff in Ireland. The Guinness here is very different. I had a can when we got back home and let's just say that it was crap! I'll be taste testing the on tap stuff next and let you know...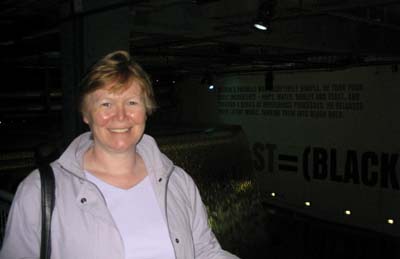 There are floors of history and displays. Arthur Guinness was a very generous man. Lots of founding this and saving that...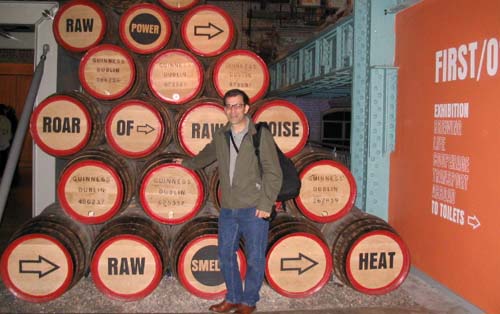 Everything from old equipment to advertising. We had lunch on the sixth floor. I had a Irish Stew made with Guinness. Yummy! Then we went up to the Gravity Bar.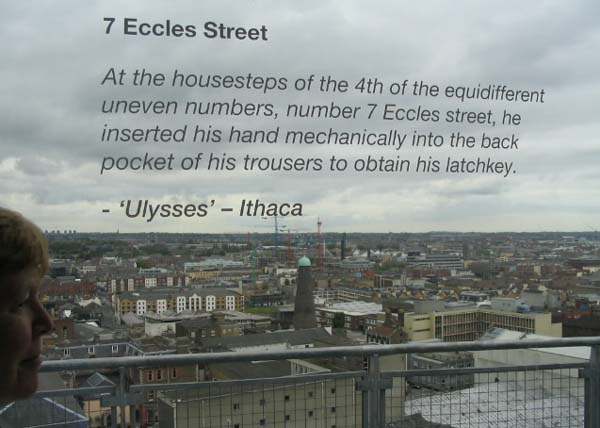 The Gravity Bar is a circular room (the creamy top of a seven story pint) with a three-hundred and sixty degree panorama view of Dubin. On the windows are quotes out of books by James Joyce. Yes the hills are that close.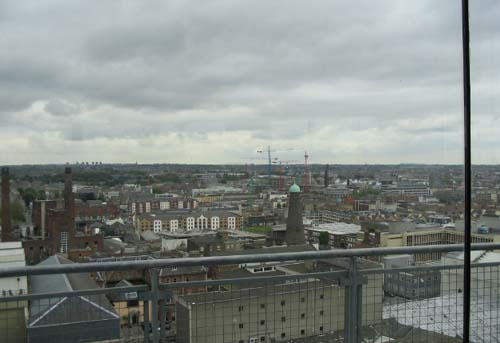 St. Patrick's Tower.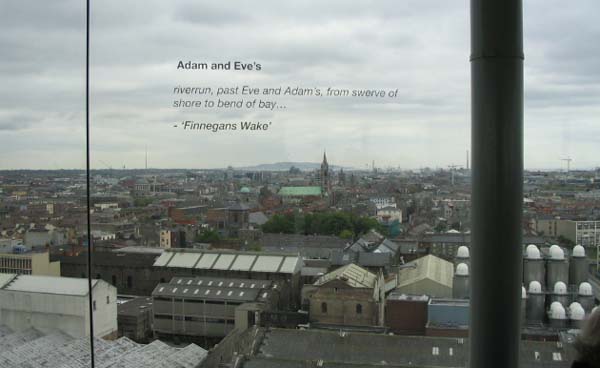 Toward the Liffey and the Irish Sea. That is an island in the distance.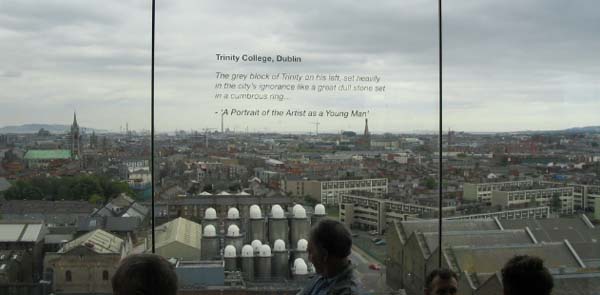 Toward Trinty College.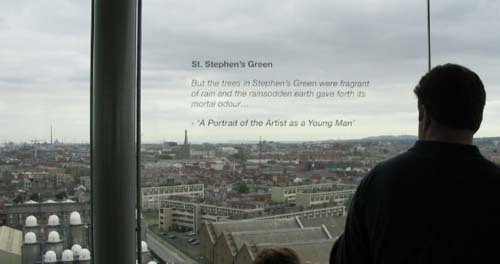 Those white domes are part of the brewery.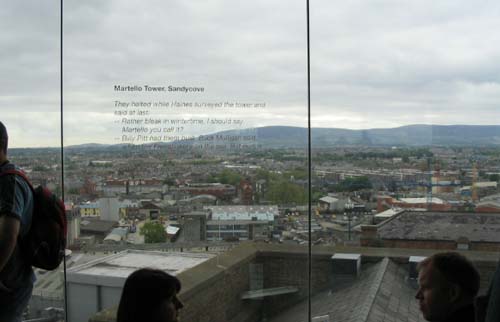 The hills are closer than they appear.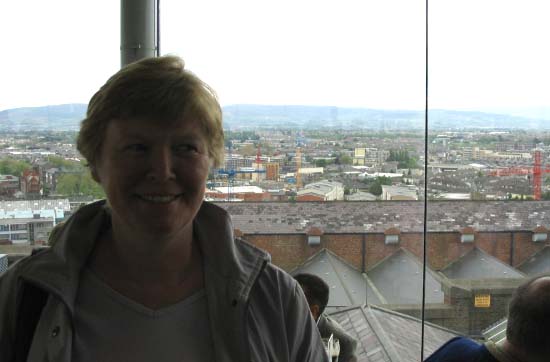 Where's my pint!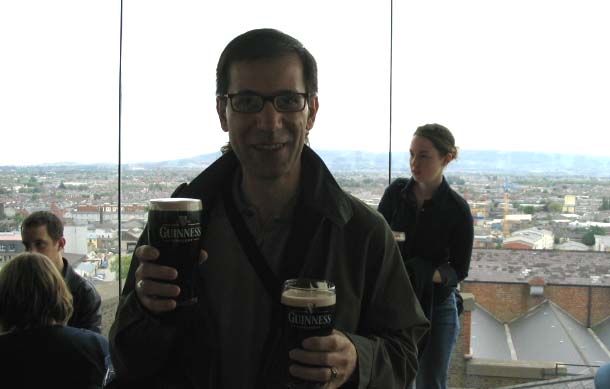 Right here!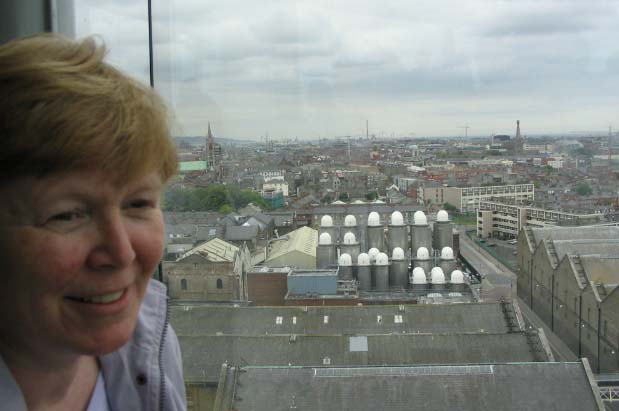 Taking in the view.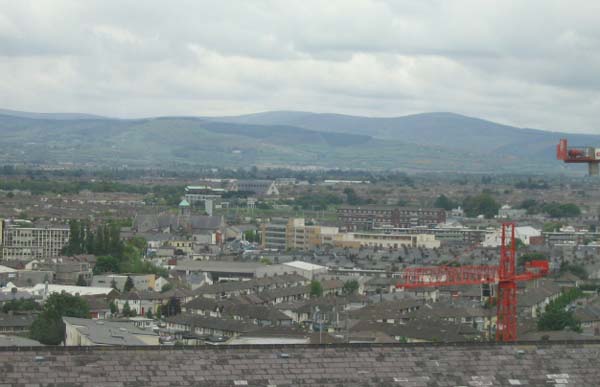 The hills are calling.
Hop-On. Phoenix Park.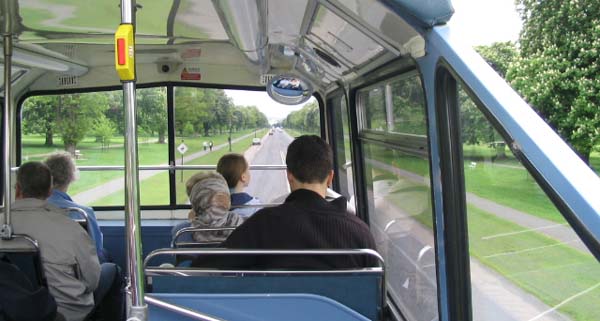 Phoenix Park is over 1,700 acres making it the largest urban enclosed (walled) park in Europe. The residence of the President of Ireland and the US ambassador are within the park grounds.[Photos]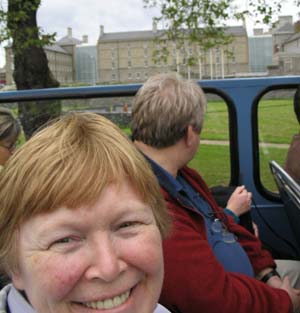 That is Collins Barracks in the background.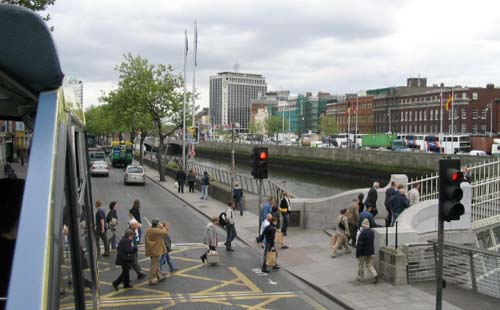 The Liffey north side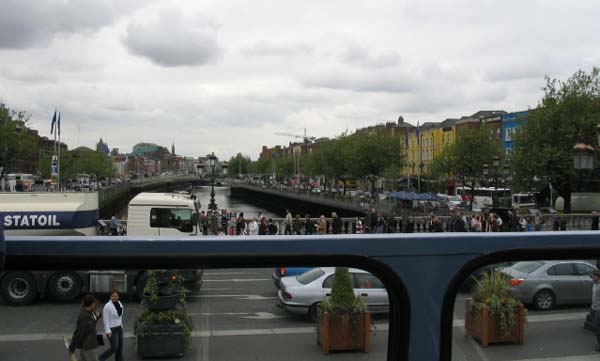 Crossing The Liffey on O'Connell Bridge.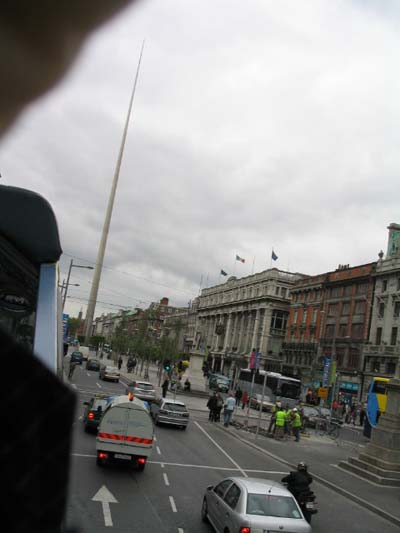 O'Connell Street with Spire of Dublin or as it is called locally the "The Stiletto in the Ghetto".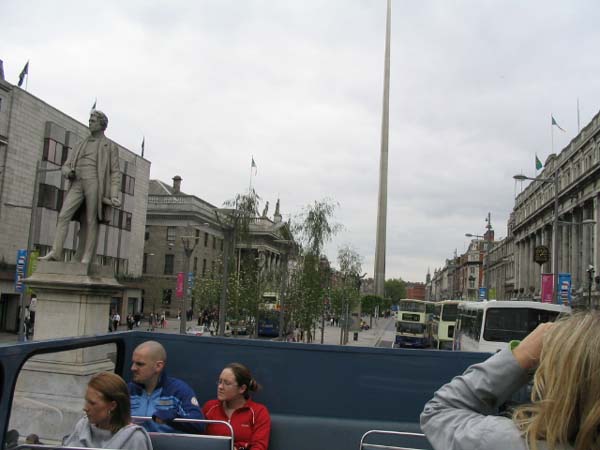 Spire of Dublin with General Post Office (building with columns) at left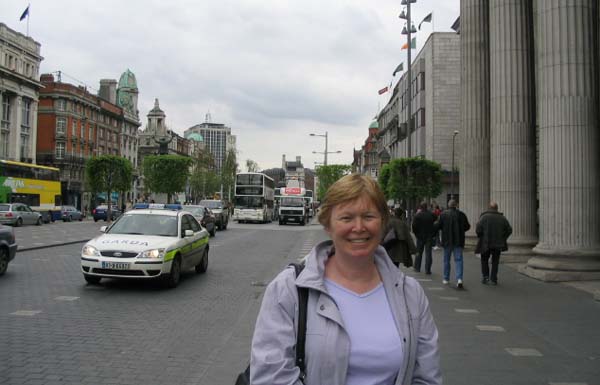 Hop-Off [End of Dublin Bus Tour] at the General Post Office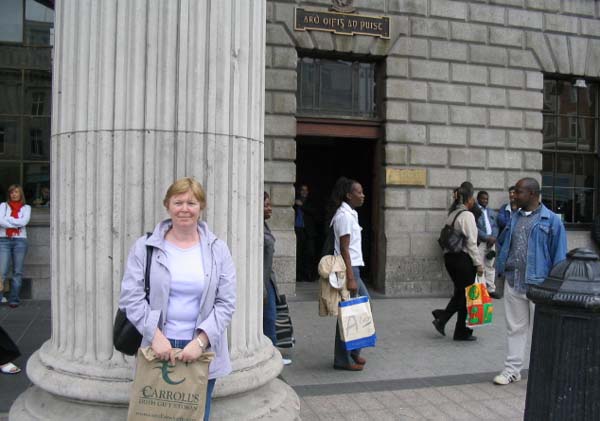 General Post Office with bullet holes.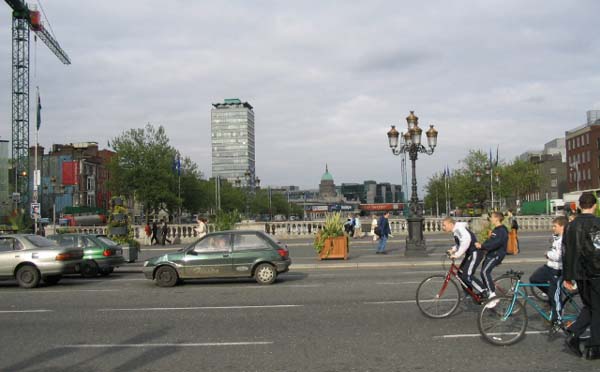 East down The Liffey on foot at O'Connell Bridge. The first and last tall building in Dublin.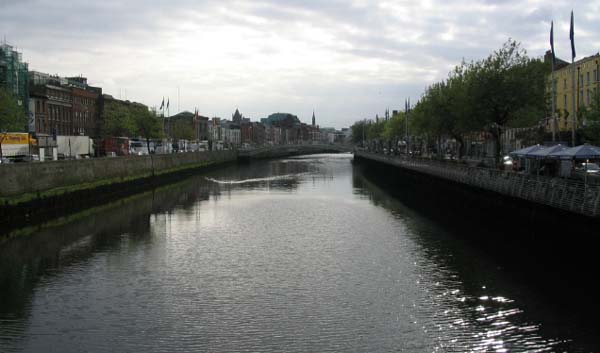 West up The Liffey on foot at O'Connell Bridge..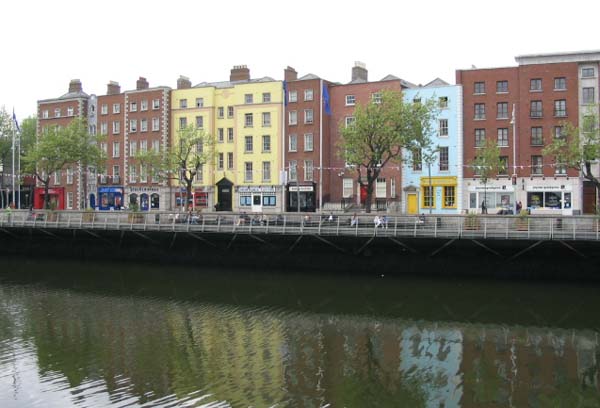 On the east side shooting the north side just down from O'Connell Bridge.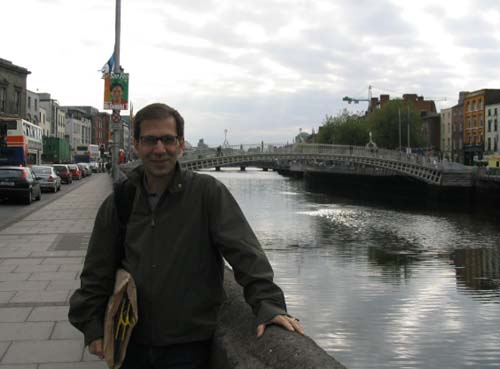 Near Ha Penny Bridge.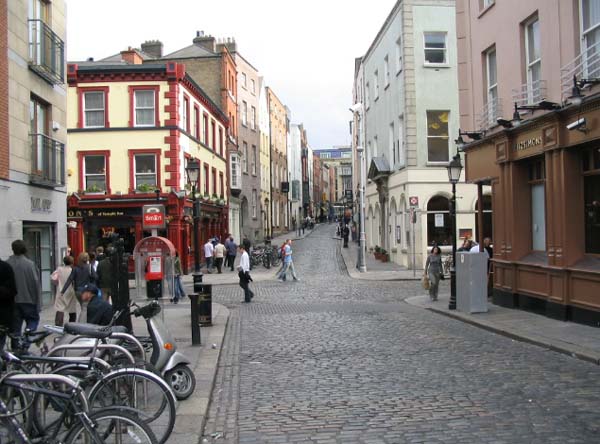 Off to get dinner at The Merchantile (then off to see the lads get rowdy at the Vat House).
May 15 [NEXT]