From there you can easily share and repost to a number of social media websites.
Those DARN'ed Jeans! Following my natural tendencies I began to darn my old jeans. Then I started darning jeans for friends and family... got carried away... Here is the ReNewal Jeans album on my Facebook vButterflyEffect page.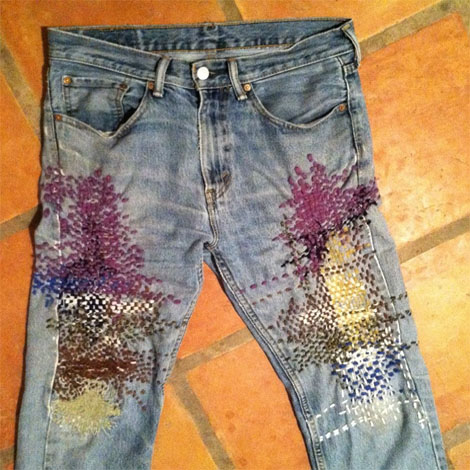 Weaving Series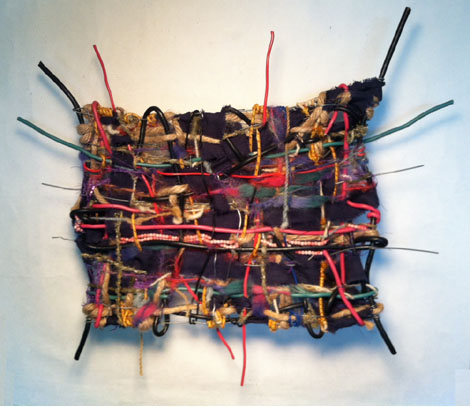 Ceramic Art:
Graffiare Tile Work
View the series album on my Facebook vButterflyEffect page.
Beginning in 2013 (and continuing today) I began to use tiles as a sketching material (not that I gave up my paper sketch book mind you) using a technique I call "Graffiare". Sgraffito and sgraffiti come from the Italian word graffiare ("to scratch"), ultimately from the Greek (γραΦειν) (gráphein) "to write".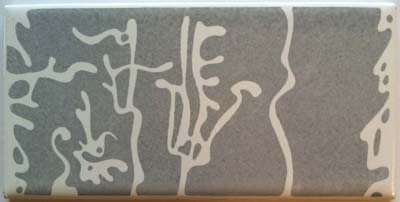 The first series using this "Graffiare" style I am calling The View from Behind my Eyelids. For this series I have played with recreating the likenesses of the light and dark and the shadowy forms one finds behind closed eyelids – and in the process see stories and scenes emerge out of the scratching away of the surface – as life becomes richer as we see beyond the surface. I currently have nearly 100 of these "The View from Behind my Eyelids" sketches some of which are on display at Funkware Pottery in Canaan, Connecticut.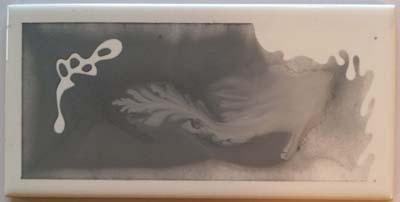 I am also working creating a wall installation using a mix of my graffiare tiles with blank tiles.
How: The "graffiare" technique I use is to apply black (or other colors) majolica glaze in various viscosities to an already glazed and fired commercial tile and then to scratch (graffiare) it away to create the "view". The tile is then re-fired to fuse the over-glaze graffiare design to the existing tile surface resulting in a new permanent ceramic tile surface suitable for wall mounting or display.
Pocketglyphs Carved Tiles
In 2013 I began a creating carved tiles and marketing them as "Pocketglyphs". Various theme "collections" have been sold. Currently I am on a hiatus from Pocketglyphs while I build my Graffiare collections - but please let me know if you are interested in exhibiting or purchasing my Pocketglyphs or commissioning a themed series for your store, home, office or to give away to friends.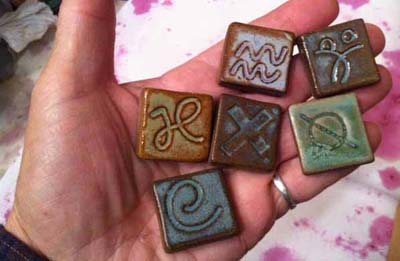 More information and images available on my Pocketglyphs Facebook page.
Triskelion Tile Work
The latter part of 2012 and into 2013 was spent mostly on the trail of my Sicilian roots exploring using Majolica glaze color to create painted tiles. Our experiences in Sciacca, Sicilia in February 2012 was the begining of this exploration. There we again found ourselves in this city of painters, not painting on canvas, but on ceramic. I found myself inspired to paint on ceramics too.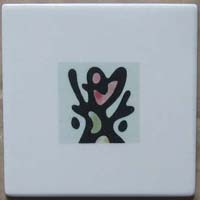 This inspiration led me to embark on a series of hand painted numbered tiles that I titled Cosmic Flowers. I began with a series of hundreds of drawings which became the theme of this Cosmic Flowers series – meaning that, everything around us, and every one of us, are, after all – cosmic flowers. Some of these drawings I then transferred to tiles using a variation of the colorful majolica glaze painting technique that I saw while in Sciacca.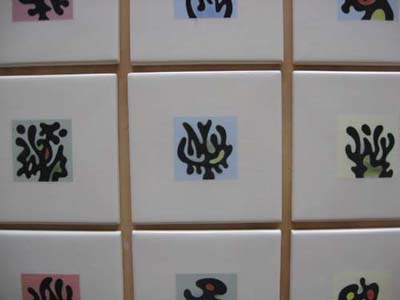 I began painting this series of tiles in the summer of 2012 and continued into 2013. The first exhibit of this Cosmic Flowers series was, October 2-30, 2013 at the Douglas Library in Canaan, CT.
Change-Process Art:
Drawing with Nature
The art of changeability using materials and pigments gathered from where I live and the places that I visit. I call this Change-Process Art and describe it as human and natural actions coming together to create an open ended work of art that has the possibility to change even as we have the possibility though time and space to alter our perception of it and our interaction with it.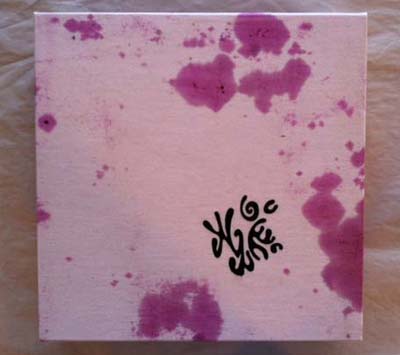 Please visit my blog Drawing with Nature [HERE] to view more work and my process notes.
The Gathered Hedge
Explore a related collaborative project, The Gathered Hedge at our blog [HERE]. The Gathered Hedge is a collection of found, purchased and donated materials that have been merged with on site natural, planted and gathered growth. This process put in motion gathers other active partners; the weather, time, the sun, wind, cold, heat, rain, snow, ice, growth and the coming and going of the seasons to create this "Change-Process Art" installation.