Lyrical Expressionist
Bernard Re, Jr.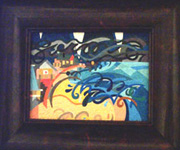 The Storm
This painting was sketched out as a storm rolled up the coast during our vacation on the Outer Banks, North Carolina in 2001. It was painted during that vacation.
Year: 2001 Medium: Oil Size: 6x8 Price: upon request
Please [contact] me regarding this painting.
Return to MAIN INDEX page