Archived contents page for week of 11-29.04. Join update e-mail list [GO]

not being able to view the website and about the delay in posting today (12-2-04) my server provider had a problem with serving the site and I couldn't login to update... (I'm trying not to be paranoid)

When we update get notified.

Quote:
...freedom without Socialism is privilege and injustice... Socialism without freedom is slavery and brutality... - Micheal Bakunin

Where ever there's, weather there you are.


BOS


WSTK


KC


DEN


SF


Even here (ZIP)
Guests POST here.
Bookmark us. Better yet make us your home page.
How to support this site: (1) Buy our art or stuff. (2) Access shopping sites through our affiliate links: Amazon, eBay, Astrology.com, AllPosters.com, MisterArt.com, Gurney's Seed and Nursery and JustFlowers.com. (3) Or donate some cash...

Guests POST here.
---
This gift buying season support what we are doing by shopping on Amazon. Just use this search search box when going to Amazon and we get a commission on the items you buy. Thanks

---
12.03.04
...William Powhida has an enemies list, just like Richard Nixon. Unlike Nixon, Powhida isn't trying to hide it. In his own private post-office version of most wanted, he draws the faces of those he claims to loathe and underlines each with insults.... [GALLERY]
12.02.04
...Dishonest Dubya lying action figure...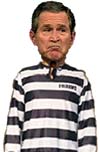 (my favorite outfit)
12.02.04
...London - Forget the soiled bedsheets and pickled animals, British art has taken another outrageous turn in an example of the unspeakable swallowing the uneatable. Performance artist Mark McGowan, who counts among his feats pushing a peanut along the road to Tony Blair's Downing Street home with his nose, has eaten a fox, in protest at the public fixation with a government ban on fox hunting. He described the roast fox, which he ate in public, as quite tasty, although he admitted to nearly vomiting at times....
12.01.04
...The grim joke about the high literacy rate that does the rounds there ("Everyone can read and write but there's nothing to read and you have to be careful what you write") would resonate for the visual artists too, and you will look in vain on the walls of the Havana Gallery for a piece that makes an explicit political statement. The closest might be Avila Gendis' Lost Boat Over A Black Hole, an impressionistic depiction of a heavy - framed boat lost in the mist and spray as the ocean depths yawn at its keel: it speaks of longing for escape and the fear of exile... [Havana Gallery]
11.30.04
...The Wolfsonian Florida International University announced the unveiling of In Advance of a Broken Heart: How Far Apart We Are, a new installation...
11.29.04
Abstruse as performance practices may remain to most of us, they represent experimentation and innovation. True, performers may get it wrong, and misjudge their audience. But when they get it right, the message can resonate powerfully with contemporary concerns. Performance art works in the spirit of opposition. It operates in the belief that moderate measures of both art and politics have tried and failed. It is constructive violence because it is symbolic rather than venal.

Art Activism Inspiration Resource Links [PAGE] ...and for the truely inspired e-mail addresses for [SENATE] [HOUSE] [MEDIA] [U.S. GOV] [BUSH]
Street Art Gallery View/Submit... [PAGE]
Art Activism Resource Links [PAGE]
Archived contents pages by week.
07.29.04
Make art... Tie Dye Kit
Who were you in past life? Find out with a FREE sample Past Life Report from Astrology.com!
12.03.04



(detail)
...According to art expert Simon Wilson, "the Duchampian notion that art can be made of anything has finally taken off. And not only about formal qualities, but about the 'edginess' of using a urinal and thus challenging bourgeois art."...

12.02.04
...Polk County (FLA) Commissioner Randy Wilkinson added another target to his growing list of personal crusades. This time, it is the Polk County Museum of Art, which he criticized Tuesday as too political and offensive. Wilkinson asked his all-Republican peers at their regular County Commission meeting to cut the museum's funding, citing a perceived trend of the museum hosting biased events...

12.01.04



...He focuses more on the political side of the beginnings and ends of relationships with a particular focus on the recent war...
11.30.04



..."Our battle shall be fought in every street in every city with just three colours." The Art of Urban Warfare ist das globale Game der Postgraffiti - Generation. Paris, Rotterdam, Berlin, London - immer mehr Städte werden von den kleinen Spielzeug- soldaten erobert...
11.30.04



...Gallery Hall of Fame... Hail McDonald's...
11.29.04
November 25, 1964: ...The funeral of the assassinated President, John F. Kennedy, has taken place in Washington...
---
Support an old hippie (and this site) donate some cash...

---
12.03.04
Related: ...More importantly, my art helped me discover my political awareness - who I was in society. I discovered the Mexican muralist Diego Rivera and Picasso's "Guernica" - those were my influences where I saw that art could be used as a weapon of the oppressed against the oppressor. I began painting social statements against the death penalty and the prison-industrial complex... [Anthony Papa website]
11.29.04



...Rage, in oil on canvas Picasso's response to the pure evil of war still unnerves those who wage it...
Make art...


Use this link and we get a commission. Thanks

11.29.04
..."Voter suppression and intimidation is a civil rights issue. Jesse Jackson is the perfect person to bring these concerns to a wider audience and we welcome his participation," said David Cobb, whose campaign has been leading the charge for the Ohio recount. Cobb has been joined in the recount demand by Libertarian candidate Michael Badnarik....
Support what we are doing by ordering flowers through our affiliation with


Use this link and we get a commission. Thanks
Support what we are doing by bidding or selling through our affiliation with


Use this link and we get a commission. Thanks
Visit our Three Old Hippies STORE on eBay.
When we update get notified.

12.03.04



...On Thursday, January 20, 2005, George W. Bush will be inaugurated as president of the United States. For the millions of us who stand for the values of peace and justice, it is a moment to renew our commitment to resist the Bush Administration and its deadly policies of war and greed...
Related: ...Let's start from the start: Inauguration Day... [TURN YOUR BACK ON BUSH] ...On January 20th, 2005, we're calling for a new kind of action. The Bush administration has been successful at keeping protesters away from major events in the last few years by closing off areas around events and using questionable legal strategies to outlaw public dissent. We can use these obstacles to develop new tactics...

12.02.04
..."After the election, I started thinking I wanted to do a political show," says Ecuadorian - born, New York-raised artist Nicky Enright, 33, whose mixed-media pieces have graced the walls of Baltimore's Contemporary Museum and New York City venues, like RKL Gallery, Taller Boricua and 450 Broadway Gallery. Frustrated by the state of affairs in the country, Enright decided to put together the current exhibition, "Patriotism and Red Flags," showing at Spanish Harlem's Carlito's Caf' y Galeria. ...
12.02.04



...Accelerated integration into the international community has turned Beijing, Shanghai, Guangzhou and China's other major cities into cradles for a new urbanized culture, of which consumption is a major aspect... (where we lead the world follows, oh shit)
12.01.04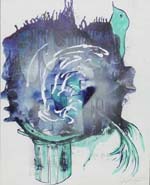 What became of the peace dove?
..."In my work I try to establish a connection with the spectator using symbols representing the current Cuban reality, where our isolation is always present in our conflicts. Limitations due to our economic-social context put Cuban artists in difficult situations but we don't lose hope and look forward to the future." - Miguel Couret
11.30.04
...Making its San Diego debut, Make a Connection Thru Art, an innovative educational program, is encouraging middle school-aged children to take on social concerns like racism, pollution, and terrorism and communicate their solutions using technology. Make a Connection Thru Art is designed to equip students with essential life skills through a curriculum rich in oral, written and artistic expression demonstrated by digital stories...
We will not share your e-mail or name with anyone. But we will post the number of visitors by where you hail from. Be brave! As of tonight (11.30.04) we now have over 3,400 visits. (The Marches UK 1, GA 1, PA 1, NH 1, NY 1) :)
11.30.04
Related: ...The International Committee of the Red Cross has charged in confidential reports to the United States government that the American military has intentionally used psychological and sometimes physical coercion "tantamount to torture" on prisoners at Guantánamo Bay, Cuba...
11.29.04



...In addition to organizing and attending mass demonstrations, teach-ins, and other events, local groups and individuals can utilize the resources found here in every school, community and workplace throughout the country...
11.22.04
Do you know this quote?
"...To exist is to change, to change is to mature, to mature is to go on creating oneself endlessly..." - Henri Bergson
Grow something (legal)...
Click Here to Save $20 on Internet Specials at Gurney's Seed and Nursery...

Use this link and we get a commission. Thanks