Archived contents page for week of 9.27.04. Join update e-mail list [GO]

When we update get notified.

Quote:
"... "Unfortunately, what happens is that people become much more aware of a tragedy like this once it has run its course; and then there's a lot of hand wringing and `Why didn't we do more?'..." - More on Darfur, Sudan

Where ever there's, weather there you are.


BOS


WSTK


KC


DEN


SF


Even here (ZIP)
Guests POST here.
Bookmark us. Better yet make us your home page.
How to support this site: (1) Buy our art or stuff. (2) Access shopping sites through our affiliate links: Amazon, eBay, Astrology.com, AllPosters.com, MisterArt.com, Gurney's Seed and Nursery and JustFlowers.com. (3) Or donate some cash...

Guests POST here.

10.01.04



...Their work - based on satire and often politically motivated - has also seen the pair crawl through the capital in military fatigues and run naked across Westminster Bridge carrying a panda called Tony Bear....
09.30.04
...Its Bush is not merely a sincere man of faith but God's essential and irreplaceable warrior on Earth.... (and other BS)
09.30.04
...Liu, who was the first artist to visit army camps on both sides of the Taiwan Strait, is one of 18 artists from Taiwan and China who are converting derelict bomb shelters into multi-media installations, hoping to use art to bridge a bitter political divide...
09.30.04
... Ted Pappas, head of the Pittsburgh Public Theater, has a similar take on the current influence of politics on theater. "I'm feeling a trickle-down effect from the anxiety we're all feeling -- politically, economically and in terms of safety." In such times, he says, two things happen: "Audiences become more conservative with spending and leaving home, and artists become braver about tackling issues. I think that happens consistently in our history -- we shouldn't be surprised. Audiences become more cautious and artists braver."...
09.29.04
Phoenix:...There is a theme to the gallery, 'Billionaires for Bush,' a satirical political group...
09.29.04



Get it. [Greeting Card]
09.28.04
...It's not just for professional reasons that cartoonist Steve Brodner wants President Bush out of office. This time, it's political. "I have to put my cards on the table: I'm for [John] Kerry," says Brodner, who's just published a retrospective of his work called "Freedom Fries...
09.27.04
September 25, 1957: On the orders of President Dwight D. Eisenhower, the troops arrived last night in full battledress with fixed bayonets and rifles and took over from local police following three weeks of disturbances...

Art Activism Inspiration Resource Links [PAGE] ...and for the truely inspired e-mail addresses for [SENATE] [HOUSE] [MEDIA] [U.S. GOV] [BUSH]
Street Art Gallery View/Submit... [PAGE]
Art Activism Resource Links [PAGE]
Archived contents pages by week.
09.26.04
..."The show is very appropriate in this time in our country. Some of the pieces are serious and pretty thought provoking, really relevant to what's going on today -- campaigning, violence, all the stuff going on in the world, Iraq and all the al-Qaida stuff, 9/11," he added. "There's a lot of things going on about our security" and the issue of freedom versus privacy...
09.13.04
Activist Art:



FREE Dump Bush Election Worry Beads for FIRST FIVE PEOPLE who respond via PayPal! *$1.33 shipping/handling.
One order per shipping address.
Signs, signs, evrywhere, signs... find out what they mean to you.
FREE Sample Karma Report
Use this link and we get a commission. Thanks
Who were you in past life? Find out with a FREE sample Past Life Report from Astrology.com!
10.01.04
...He swivels in a chair in his 25-foot-by-25-foot studio, cluttered with photographs, comic strips and cucaracha prints bulging from a cardboard box on the floor. A Che Guevara poster he's modified with Bush's face above the words "Freedumb Fighter" hangs on the wall; a mini-Mexican flag is draped over the sink...

09.30.04



...are among the performers who posed in "Vote or Die!" t-shirts for photographs to be displayed in a traveling exhibit unveiled this Wednesday...
Related 10.01.04: ...At the "Voter Registration Jam Down Jump Off," sponsored by NYU's NAACP chapter, artists Guerilla Black and Houston signed autographs while the retail store Target gave away merchandise...
Related 10.01.04: ... The Hip Hop generation -- 18-35 year olds who identify with Hip Hop culture -- could be the crucial voter bloc that defeats George Bush... if they get out to vote...
From our e-mail box 09.29.04
...Election hurricane track... [CHART]
09.26.04
...he thought the massive new mural on Northeast Campus Parkway would "last forever," David Vera put a lot of thought into his portion of it. The 15-year-old painted a figure floating in red, white and blue, with the word "Sane" spelled out in graffiti-style lettering. Although the mural involving 40 young artists, designers, art students and middle-schoolers is city-sanctioned, certain city officials are saying parts of it look too much like graffiti, and they want those portions, including Vera's, removed. "I thought I was part of a legal wall," a disappointed Vera said. "I don't understand what changed."... how can a style be illegal?... (pc pricks)
Update 9.29.04: On second thought, city officials said yesterday, the new mural on Northeast Campus Parkway can stay.
09.26.04
..."The people who are laying themselves on the line -- Springsteen, John Mellencamp, the Dixie Chicks -- are really saying 'It's so imperative this year that we're going to do it. If we lose half our tour audience, it's worth it.' If John Lennon were around, there's not much question in my mind what he'd be up to."... ( and Roger McGuinn, "you have forgotten your roots")
09.13.04


A Call to Service: My Vision for a Better America by John Kerry [FIND OUT MORE]
Activist Art:



FREE Vote Kerry Election Worry Beads for FIRST THREE PEOPLE who respond via PayPal! *$1.33 shipping/handling.
One order per shipping address.
Make art...


Use this link and we get a commission. Thanks
Support what we are doing by ordering flowers through our affiliation with


Use this link and we get a commission. Thanks
Support what we are doing by bidding or selling through our affiliation with


Use this link and we get a commission. Thanks
Visit our Three Old Hippies STORE on eBay.
When we update get notified.

10.01.04



...Naima had to wait 35 years before he could draw what was on his mind. But since Saddam Hussein was toppled, he has faced new pressure from Islamist militants who have threatened him because his work mocks their violence...
09.29.04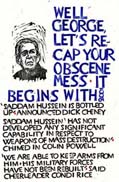 ...Visual artists mix paints and prints with politics...
09.27.04
...Art professor Carolyn Cardenas, who chairs Senate's Professional Relations Committee, confirmed Friday that "without a doubt" the impetus for drafting the new censorship policy was the decision by library officials to remove certain pieces from the art exhibit, after one or more OU distinguished professors complained that they were demeaning to U.S. President George W. Bush...
09.26.04
...The news out of Darfur, Sudan -- with reports of one million people displaced and more than 50,000 killed -- has prompted a group of Canadian writers and artists to call on the federal government to take action to end the political and humanitarian crisis in the African nation...
---
Support what we are doing by shopping on Amazon. Use this search search box and we get a commission. Thanks

---
09.26.04
... Fueled by anger over the war in Iraq, the Patriot Act, even the FCC's censorship of Howard Stern, many artists are mobilizing on behalf of Democrat John Kerry's campaign, a dump-Bush movement that began well before anyone knew who would be the Democratic nominee. "The America we believe in can't survive another four years of George Bush," Moby told Rolling Stone Magazine last year. "We must all unite and work for whoever opposes Bush, regardless of whatever differences we may have."...
09.13.04
Do you know this quote?
...Don't want to work away - Doin' just what they all say "Work hard boy and you'll find - One day you'll have a job like mine"...


[LYRICS]
Related: ... On Tuesday (21 Sept, an American Airlines flight from London to Washington was diverted to Bangor, Maine, following a terror scare. Alarmingly, it was only after the plane was aloft that authorities discovered singer Cat Stevens, aka Yusuf Islam - who wrote such violent anthems as "Wild World," "Peace Train" and "Morning Has Broken" - to be among the passengers...
SEND photos of street art for online gallery... [SEE GALLERY/SUBMIT]
07.29.04
Make art... Tie Dye Kit
Grow something (legal)...
Click Here to Save $20 on Internet Specials at Gurney's Seed and Nursery...

Use this link and we get a commission. Thanks
Support what we are doing...
Dove posters and more at our store on AllPosters.com
Use this link and we get a commission. Thanks