GlobalHome
®

Professional and personal web site
of Bernard Re, Jr.

5-19-07

Index:

Art Career | Main Page: Artist Statement, Evolution of Style, Exhibition History and other information | By Title Page through 2004 | 2005-2006 enamel paintings
Contact
Personal Journal
Clicking the Personal Journal links will step you back in time.
Design/Marketing/Internet Career (PDF)


E-mail me for more information.


New Horizons: [SONG]
Finnegann [LINKS]
Out in my yard [BLOG]
Monument Mountain [PICNIC]
Our Troubabour [DAVID GRAY]
Halloween [A PIRATES LIFE FOR US]
The Potter [JOEY]
Open Pottery Studio [NOV-DEC]
Sadness [DAD'S PASSING]
Christmas 2006 [PHOTOS]
Sicily February 2007 [PHOTOS]

Right now: 'Collapse of the wave function' -- to the process of "...what it feels like from within experience." "...emergentism, which basically states that the interiority, or consciousness, of brain matter is an emergent property and a product of ordinary matter at a certain level of evolution." -- to the present "...The so-called observer is actually the participator, an integral part of the quantum system. The essence of the revelation is this: The quantum domain consists wholly of possibilities and probabilities, 'existing ' together in a kind of suspended animation. In quantum physics, these probabilities are described as a matrix of wave functions -- mathematical waves of probability. The remarkable thing is that any particular probability becomes an actuality only when observed. In quantum-speak, this is called the 'collapse of the wave function' -- one particular actuality is 'collapsed' out of many superimposed probability waves." (Radical Nature, Christian de Quincey).







EXCITING TIMES!

Title: Portrait of Gertrude Stein (after Picasso) (painting on green wall)
Title: A Box (painting on red wall)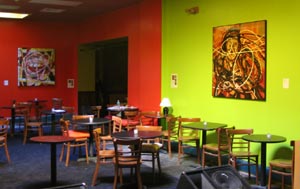 Paintings were completed for the May 19 and 20, 2007 Blue Iguana Room's performace of Gertrude Stein, Gertrude Stein, Gertrude Stein in Pittsfield, MA. Paintings are four foot square, the largest works that I have completed thus far. The portrait used Picasso's painting as source material and A Box uses a segment from the prose poem Objects by Gertrude Stein.
Sicily Paintings:
Title: Driveway at Fontana Calda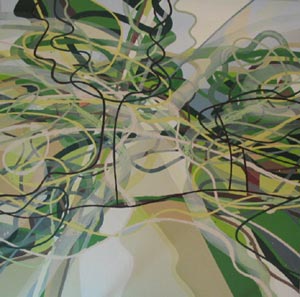 Painting of the driveway entry to the villa Fontana Calda in Sciacca, Sicily. Our home during our visit in February 2007. [Carnevale Sciacca]
Title: The Olive Grove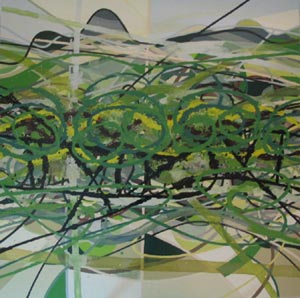 Painting of the olive grove at villa Fontana Calda.
Title: Portrait of Joey Sage Jablonski: Parking lot, 2 a.m., pottery wheel, wonder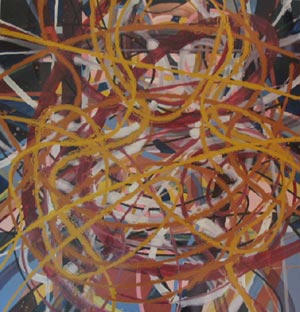 This portrait of Joey was just juried into the National Spring Open Juried Exhibition at the Wayne Arts Center, Wayne, PA.
Title: Astraea: Shakespeare and Elizabeth I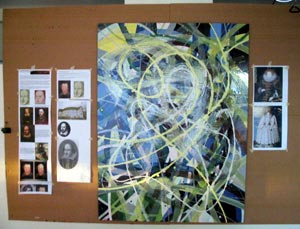 This painting and five others of mine (and abstract sculpture by Joey Sage Jablonski) are currently (May 17, 2007 - Jun 10, 2007) on exhibit at Lascano Gallery, Great Barrington, MA. in the The Science of Abstraction: show. [LARGER VIEW] Astraea (with source materials around it. This was inspired by pages 9-16 in The Virgin in the Garden, by A.S. Byatt, "My Care is like my shaddow in the sunne / followes on the fliinge, flies when I pursue it..." The painting seeks to captures the images of Elizabeth I and Shakespeare. In a possible play that they are one and the same.

Title: Into the Earth, Out of the Earth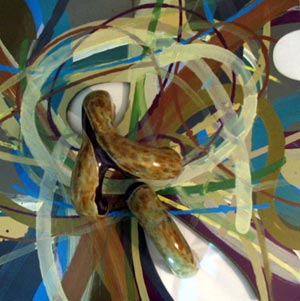 This is the first collaborative work that Joey Sage Jablonski and I have completed. It combines my painting and her ceramic scupture. We will be having a two person show entitled, Infectious Christening, in July 2007 at the NAC Cooperative Gallery in Norwich, CT.


Title: Angry Sun: Birds without wings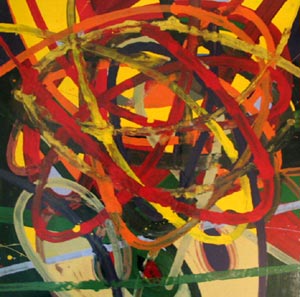 Inspired by lyrics from a David Gray song, Birds without wings..