Archived contents page for week of 1-3.05. Join update e-mail list [GO]

When we update get notified.

Quote:
"Our language tells the path we have walked: stock is not a herd, mine is not a quarry, Brand no longer refers to cattle markings, and share no longer has anything to do with generosity." - Patricia Monaghan, from The Red-Haired Girl From The Bog

Where ever there's, weather there you are.


BOS


WSTK


KC


DEN


SF


Even here (ZIP)
Guests POST here.
Bookmark us. Better yet make us your home page.
How to support this site: (1) Buy our art or stuff. (2) Access shopping sites through our affiliate links: Amazon, eBay, Astrology.com, AllPosters.com, MisterArt.com, Gurney's Seed and Nursery and JustFlowers.com. (3) Or donate some cash...

Guests POST here.
---
All year long support what we are doing by shopping on Amazon. Just use this search search box when going to Amazon and we get a commission on the items you buy. Thanks

---
1.06.05
... ''We're presenting a very personal vision of both pre- and post-apartheid through the two central works, one by a black man, the other by a white woman, and the effects it had on their lives and their families," says ART executive director Robert Orchard. ''[The plays are about] how they have come to a point of reconciliation, how they and the country by extension have evolved over the last 10 years. It's a remarkable journey and one that provides us all certain lessons."...
1.03.05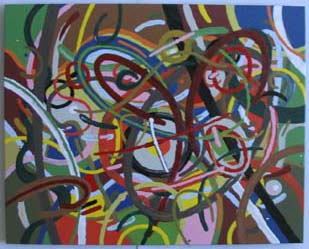 ...Caught in Heaven's Headlights... (more information)
1.03.05
... But it was Sontag's essay after the Sept. 11, 2001, terrorist attacks that really raised hackles and, in the words of Craig Seligman, author of "Sontag and Kael: Opposites Attract Me," made her persona non grata in the United States. Of all the literary heavyweights enlisted by New Yorker magazine to share their thoughts on the attacks, only Sontag chose to not dwell on mourning but to challenge the prevailing way of thinking. She wrote: "The disconnect between last Tuesday's monstrous dose of reality and the self-righteous drivel and outright deceptions being peddled by public figures and TV commentators is startling, depressing." She also lambasted the administration and the news media for "sanctimonious, reality- concealing rhetoric" that was "unworthy of a mature democracy."...
Support what we are doing by bidding or selling through our affiliation with


Use this link and we get a commission. Thanks
Visit our Three Old Hippies STORE on eBay.
Support what we are doing by ordering flowers through our affiliation with


Use this link and we get a commission. Thanks
---
Support an old hippie (and this site) donate some cash...

---
1.07.05



... That satiric visual journalism can transcend its time has been proved. (See Goya's "Disasters of War," for instance.) And there are examples in an exhibition of prints by the English satirist James Gillray (1756-1815) at the New York Public Library that cross the line between interesting artifact and still-exciting art....
1.06.05
...While you might have thought that President Bush's victory in November would initiate a fundamentalist time-out for hosannas and celebrations, they're keeping their joy in check. Instead of dancing in the streets, Christian right political warriors are donning full battle gear and scoping out new terrain... [more]
1.03.05
...Their unique comic voice is mixed with political outburst, and abstract thoughts fly in the face of artistic fashion to create something humourous and playful. Nothing, even their heroes or real identity, is safe from the comic anarchy of Bob and Roberta's work. The two artists are actually an alias or 'artistic enterprise' created by one man, Patrick Brill, whose name change rebels even against the established notion of artist and viewer...

Art Activism Inspiration Resource Links [PAGE] ...and for the truely inspired e-mail addresses for [SENATE] [HOUSE] [MEDIA] [U.S. GOV] [BUSH]
Sixties Project: The Sixties Project began as a collective of humanities scholars working together on the Internet to use electronic resources to provide routes of collaboration and make available primary and secondary sources for researchers, students, teachers, writers and librarians (and old hippies) interested in the Sixties.... [WEBSITE]
Street Art Gallery View/Submit... [PAGE]
Art Activism Resource Links [PAGE]
Archived contents pages by week.
1.03.05
Do you know this quote?
"...When one door closes another door opens; but we so often look so long and so regretfully upon the closed door, that we do not see the ones which open for us." - Alexander Graham Bell
Who were you in past life? Find out with a FREE sample Past Life Report from Astrology.com!

1.03.05
...Act like a globe. Not an empire....
When we update get notified.

1.07.05



...The works, made with enamel sign paint and spray paint, critique power run rampant in the hands of the government and the military-industrial complex. With titles such as "Hubris," the tongue-in-cheek "The Ministry of Peace," and "Free Speech Zone," Corsillo describes a world in which human rights are curtailed and personal safety sacrificed to support the behemoth of corporate and political clout... [Green Street Gallery]
1.03.05
...She moved to Washington several years ago and became active in anti- corporate- globalization protests and anarchist circles. Housing for the poor became her main cause. Her nickname is "Bork," a character in a science fiction novel about a Moon colony revolting against Earth rule. Hunger striking is a performance art with a lineage that includes Gandhi, Bobby Sands of the Irish Republican Army and Randall Robinson on behalf of Haitian political refugees. The late Mitch Snyder fasted for weeks in 1984 until the federal government blinked and funded $14 million in renovations to a major homeless shelter at Second and D streets NW in Washington. "You use your body as a prayer for intervention," says Carol Fennelly, Snyder's former partner, who now runs a prisoner family program called Hope House. "We always called that equalizing the dialogue. On the other side of the table is money, power, the police. On our side we have our freedom, our health and our lives, and we have to put all of that on the table if we hope to equalize the dialogue."...
1.03.05
...Within minutes Forster was on air defiantly promising the listeners of Radio 4 that his company, which has a residency at the Birmingham Rep, would somehow stage the play in the city. An angry mob, a couple of smashed windows, an overwhelmed police cordon, a decision to cancel a play and the Sikh community is cast as fundamentalist, philistine and militant. The arts establishment is seen as enfeebled in the face of threats from fringe religious fundamentalists. And now Mandla is as dismayed as the arts world that the play has been cancelled in the face of violence. "There are a group of militant people who just want to stir up problems around us," says Mandla, trying to explain away how prayerful protest became mob censorship....
Make art...


Use this link and we get a commission. Thanks
07.29.04
Make art... Tie Dye Kit